Fifteen-year-old Tiger Lily doesn't believe in love stories or happy endings. Then she meets the alluring teenage Peter Pan in the forbidden woods of Neverland and immediately falls under his spell.
Peter is unlike anyone she's ever known. Impetuous and brave, he both scares and enthralls her. As the leader of the Lost Boys, the most fearsome of Neverland's inhabitants, Peter is an unthinkable match for Tiger Lily. Soon, she is risking everything—her family, her future—to be with him. When she is faced with marriage to a terrible man in her own tribe, she must choose between the life she's always known and running away to an uncertain future with Peter.
With enemies threatening to tear them apart, the lovers seem doomed. But it's the arrival of Wendy Darling, an English girl who's everything Tiger Lily is not, that leads Tiger Lily to discover that the most dangerous enemies can live inside even the most loyal and loving heart. 
---
Jadi.. Gimana ya memulai review ini? Hmm..
Pertama, udah lumayan lama ternyata sejak terakhir saya nulis review buku. Sigh. Kedua, saya khawatirnya saya kurang bisa mengekspresikan kesan saya terhadap novel ini dengan kalimat yang benar.
Truth is, novel ini sangat menyenangkan! (Nah kan, menyenangkan?)
Kalau tentang apa sih cerita di dalam novel ini? Well, sinopsisnya udah ngasih summary yang bagus kok. Tapi untuk singkatnya, novel ini adalah spin-off dari novel klasik Peter Pan. Lebih lanjut lagi, novel ini adalah tentang Tiger Lily dan perjalanan cintanya. *tsaah
~
..the longer I was around her, the more I could see the colors of her  mind and the recesses of her heart. There was a beast in there. But there was al-  so a girl who was afraid of being a beast, and who wondered if other people had  beasts in their hearts too. There was strength, and there was also just the  determination to look strong. She guarded herself like a secret. 
~
Uniknya, meski novel ini adalah tentang seorang irresistible heroine yang namanya Tiger Lily yang hidup di Neverland, kisah Tiger Lily bukan disampaikan dengan PoV pertama tapi justru didongengkan oleh Tinker Bell. Iya, Tinker Bell si peri yang menyukai dan selalu mengekor Peter Pan. Itu poin plus pertama buat novel ini. PoV seorang peri gitu loh, menarik banget kan?
Kedua, poin plusnya ada di narasinya. Oh my, trust me, narasi Jodi Lynn Anderson di novel ini punya efek yang membuat pembacanya ngga mau ngelepasin novel ini sekali udah membacanya. Eeehh,, maaf ya kalau kedengaran lebay tapi ya gitu sih yang saya rasain. :peace:
~
He turned his lashy blue eyes on her; he had the kind of open, disarming  gaze that could make people lose their trains of thought, even boys.
~
"They can help it if it's Peter," Tootles said. "Everything goes his way."

~
Peter could be like that, so suddenly guileless that it caught at your heart.
~
Ketiga, setting Neverlandnya lebih tereksplor daripada Neverland yang ada di novel Peter Pan. Bisa aja mba Jodi ini ngembanginnya dan mengembangkan karakter yang ada didalamnya. Don't worry, si bajak laut dan putri duyung juga Wendy serta the lost boys tetap ada di novel ini kok. Agak beda mungkin nanti impression kita terhadap karakter-karakter tersebut. Kerennya, Karakter Peter Pan ngga berubah. Alluring, restless, irresistible and hypnotizing! Pesona Peter Pan kuat banget sampe kadang di bagian ini dan itu saya fall head over heels sama charm yang dia punya. Last but not least, endingnya! Oh my, perfect touch!
Kekurangan novel ini cuma novel ini begitu saya suka sampe ngga rela rasanya nerima kenyataan bahwa novel ini adalah sebuah standalone. Iya, kekurangannya cuma kisahnya Tiger Lily kurang panjang. I really love all the characters in this novel and I don't want to part away from them!
~
Sometimes I think that maybe we are just stories. Like we may as well just be words on a page, because we're only what we've done and what we are going to do.
~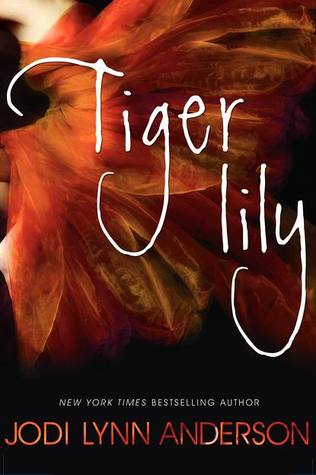 Title: Tiger Lily
Author: Jodi Lynn Anderson
Release Date: July 3rd, 2012
Publisher: Harper Collins
Format: ebook (reading it via Scribd)
Page Count: 304 pages
Genre: Young Adult, Fantasy, Romance Fiction