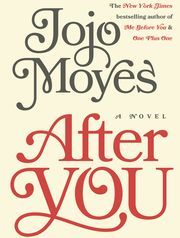 How do you move on after losing the person you loved? How do you build a life worth living?
Louisa Clark is no longer just an ordinary girl living an ordinary life. After the transformative six months spent with Will Traynor, she is struggling without him. When an extraordinary accident forces Lou to return home to her family, she can't help but feel she's right back where she started.
Her body heals, but Lou herself knows that she needs to be kick-started back to life. Which is how she ends up in a church basement with the members of the Moving On support group, who share insights, laughter, frustrations, and terrible cookies. They will also lead her to the strong, capable Sam Fielding—the paramedic, whose business is life and death, and the one man who might be able to understand her. Then a figure from Will's past appears and hijacks all her plans, propelling her into a very different future. . . .
For Lou Clark, life after Will Traynor means learning to fall in love again, with all the risks that brings. But here Jojo Moyes gives us two families, as real as our own, whose joys and sorrows will touch you deeply, and where both changes and surprises await. 
Sebenarnya  sih saya sudah menyelesaikan sekuel Me Before You ini sejak awal Oktober lalu. Entah, mengapa saya tidak langsung menuliskan reviewnya di sini, saya sendiri bahkan tidak ingat.
Saya sangat menyukai Me Before You, begitu menyukai kisah hidup Lou yang dalam beberapa part memiliki kemiripan dengan kehidupan saya sendiri. Dan saya jatuh cinta kepada Will hingga saya ingat sekali waktu itu susah rasanya move on ke karakter book boyfriend lain. Tapi saya termasuk pembaca yang apabila sudah menyukai satu novel, sebuah standalone, maka ya sudah saya justru lebih menghargai bila sang penulis membiarkan kami para pembaca melanjutkan rajutannya dengan imajinasi kami sendiri. Sayangnya, penulis favorit saya yang satu ini malah membuat sekuelnya.
Meski begitu, saya sebagai pembaca yang loyal terhadap Jojo Moyes, tak ambil pusing dengan sedikit kekecewaan saya atas pembuatan sekuel Me Before You dan lanjut saya menikmati cerita yang disuguhkannya. First thing of all, it's the newest piece from Jojo Moyes that I adore. I'll read as many as I could if it's hers.
So, how is it?
I 'll say. It's good but I'm conflicted to say that I like it because it's quite undetectable in some ways. First, about Will's daughter. My math just disagree. And then in the middle of the book where Lou could've had a good promising job but she preferred Lily, for me it was unbelievable. How could she? I mean, why don't she try another solution that would work out for her but also Lily? Well… suppose this novel going to be a drama then it work as it is.
But, with reading this novel I figured that the thing that I loved the most from Me Before You was Will Traynor. That's why all the way reading After You, all I could feel is the longing for Will. I missed him so much.
Not that Sam is not interesting, Sam was boyfriend material. I could fall for him, ups, I have x) But still, Sam cannot replace Will. He just can't.
No journey out of grief was straightforward. There would be good days and bad days.

---
Title: After you
Author: Jojo Moyes
Release Date: September 29th 2015
Publisher: Penguin
Format: ebook
Page Count: 352 pages
Genre: Contemporary Romance, Chicklit, Drama, Family.