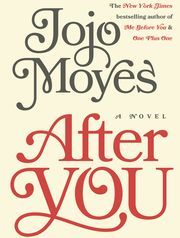 I'm currently reading After You by Jojo Moyes, the second installment to the famous heartbreaking novel Me Before You. You may already knew that I've been in a reading slump for a while. That's why I choose this sequel (after I've finished Jojo Moyes's quick reads too, Paris for One). I intentionally wanted to try myself: will reading my favorite author do me a way to escape the reading slump I've experienced for the past months?
Guess what? It works. You wouldn't know how glad and optimistic I feel right now!
As for the continuation of Louisa Clark's story in After You, the truth is I hardly moved on from Will Traynor. I long for him to be in the story, not just memories about him. I knew that he has gone, but I can't stand the feeling of missing him all along reading the first half of After You. I missed him so much I cannot hold back the tears 😥
Is that even possible? To cry because you miss a (dear) character from the book you've read??
Sigh
This may sound exaggerating, but Me Before You got me sentimental and that novel has emotional attachment I probably cannot describe well with words. You know, some books has that effect. In years of your reading routine, you'll be lucky to have found couples of them.
—
Okay. Okay. I better continue spending this weekend with reading After You. And if the feeling of missing Will Traynor won't fade, I'll just re-read Me Before You, so it'll be fulfill. See you!
Extra:
I bet you knew already that Me Before You will be in big screen, next year. So here's one of the scene from the Me Before You filming production. I approved Sam Claflin to be Will Traynor. It looks like Sam gained weight for this movie and Sam in dandy style definitely suited Will's image. Well, almost. Because nothing can beat reader's imaginary cast of his/her beloved character, right? 😉