Hello, Sunday! Hello, you 😉
This time around I've added two more titles to the shelf I-will-look-more-for-it-later. Hehhe xD
That's the thing about this feature, I wish to have a room to collect the titles that I am interest to read next. It may or may not be my to-be-read but it's straightly goes to my wishlist. And they are:
The Museum of Extraordinary Things by Alice Hoffman
Coralie Sardie is the daughter of the impresario behind The Museum of Extraordinary Things, a boardwalk freak show that amazes and stimulates the crowds. An exceptional swimmer, Coralie appears as the Mermaid in her father's "museum," alongside performers like the Wolfman, the Butterfly Girl, and a one-hundred-year-old turtle.
One night Coralie stumbles upon a striking young man photographing moonlit trees in the woods off the Hudson River.The dashing photographer is Eddie Cohen, a Russian immigrant who has run away from his father's Lower East Side Orthodox community and his job as an apprentice tailor. When Eddie captures with his camera the devastation on the streets of New York following the infamous Triangle Shirtwaist Factory fire, he becomes embroiled in the mystery behind a young woman's disappearance.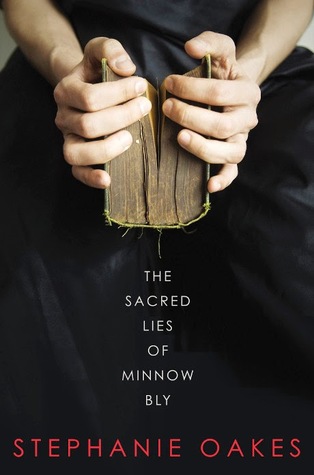 The Sacred Lies of Minnow Bly by Stephanie Oakes
The Kevinian cult has taken everything from seventeen-year-old Minnow: twelve years of her life, her family, her ability to trust.And when she rebelled, they took away her hands, too.
Now their Prophet has been murdered and their camp set aflame, and it's clear that Minnow knows something—but she's not talking. As she languishes in juvenile detention, she struggles to un-learn everything she has been taught to believe, adjusting to a life behind bars and recounting the events that led up to her incarceration. But when an FBI detective approaches her about making a deal, Minnow sees she can have the freedom she always dreamed of—if she's willing to part with the terrible secrets of her past.
Both are mysteries, so unlike my cup of tea but I'm so curious about these books because I've read good reviews about them. It's been a while (even when I looked at the date, it was last year) that I've read one review of The Museum of Extraordinary Things from The Gilmore Guide to Books. And today, I came across suggestion column on Goodreads and this title was there, just like that my curiosity about this book and me wanting to read this book surged up.
Next, I just found out about The Sacred Lies of Minnow Bly by Stephanie Oakes this week. Thanks to convincing review about it from Emily (The Book Geek) that I read on Goodreads couple days ago, I sure am going to find out more about this novel and will try my way to read it.
Well, that's it for this week. See you on next Sunday 🙂
Keep calm and read on 😎