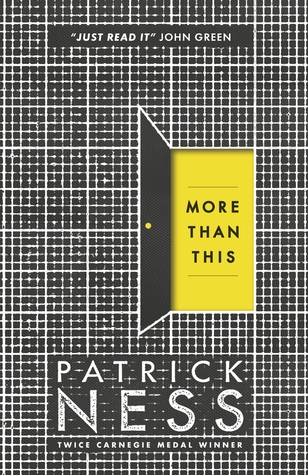 Title: More Than This
Author: Patrick Ness
Release Date: May 1st, 2014
Publisher: Walker Books
Format: Paperback
Page Count: 480 pages
Status: Read from January 23 to 25, 2015
Genre: Young Adult, Science Fiction, Post-Apocalyptic, GLBT
Source: Bought it online (Periplus)
---
"You didn't die and wake up in hell," she says. "All you did was wake up." (hlm. 206)
Terbangun dan kebingungan. Setahu Seth, ia tenggelam di pantai. Kepalanya terbentur, pusing yang hebat hingga rasa dingin yang menyekap dan menyiksa tubuhnya terasa begitu nyata. Bukankah ia telah meninggal? Dan apakah tempat ia terbangun itu, tempat yang terlihat begitu terabaikan dan tak berpenghuni itu, adalah afterlife? Atau lebih buruk, neraka?
Anehnya, tempat tersebut begitu familiar bagi Seth. Dan kesendiriannya benar-benar nyata, kemana perginya semua orang? Apa yang terjadi di bumi hingga ditinggalkan manusia-manusia yang menghuninya?
Tapi ada yang lebih membebaninya lebih dari kesendirian: ingatan-ingatan yang muncul di dalam mimpinya. Seperti memori yang berputar kembali dan begitu nyata. Tentang kehidupan keluarganya yang hampa sejak adiknya Owen diculik saat keduanya masih kecil dan kembali dalam keadaan sakit, tentang keluarganya yang pindah ke Amerika lalu ia berteman dengan sahabat-sahabat terbaiknya Gudmund, H dan Melanie. Hingga tentang usahanya untuk … menenggelamkan diri di pantai.
Disekap keraguan dan kebingungan, Seth menemukan sebuah peti mati yang dirancang khusus. Seolah peti mati tersebut adalah sebuah tempat tidur yang dilengkapi dengan kabel-kabel dan selang-selang penunjang kehidupan. Lalu ia ingat bahwa ia terbangun dari peti mati tersebut, dan mulai merekonstruksi apa yang sesungguhnya terjadi. Berpikir bahwa peti mati ini adalah kunci. Mungkin rumah-rumah lain memilikinya. Disambanginya rumah-rumah (tak berpenghuni) lainnya. Berharap menemukan petunjuk. Lacur, tak ditemukannya peti mati lain.
Di ujung keputusasaannya, ia berlari sekuat tenaga. Menghindari memori-memori yang datang menghantui dan menyiksa batinnya. Sejauh mungkin ia berlari. Sampai kemudian ia menemukan sebuah van yang sedang … berjalan. Dikemudikan seseorang …atau sesuatu. 
Sebelum ia menggapai van tersebut, berharap bisa mendapat titik terang atas apa yang terjadi, tiba-tiba ada yang menahan kakinya. Membuatnya terjatuh dan memaksanya menjauhi van dan pengemudinya itu. Dan mereka adalah Regine dan Tomasz.
Dengan penjelasan yang sulit diterima, Seth, Regine dan Tomasz berteori bahwa hanya mereka yang tersisa dari kehidupan yang dikira Seth sebagai afterlife tersebut. Well, ditambah dengan The Driver, pengemudi van yang siaga untuk menangkap mereka. Dan mereka harus berbuat sesuatu, apapun itu, sebelum The Driver menggagalkan mereka. Setidaknya mereka yakin, ada sesuatu yang lebih dari kehidupan tersebut. Sesuatu yang belum terjangkau namun berusaha mereka pecahkan.
Sejak awal, Patrick Ness membawa pembacanya ke dalam sebuah dimensi yang blank. Kosong. Tak jelas. Lalu narasinya merangkak, perlahan membangun dunia yang membingungkan Seth dan membingungkan kita sebagai pembaca. Saya akui, saya  mengantisipasi ke mana tiap halaman More Than This akan membawa saya. Dengan pace yang bisa dikatakan lambat, penulis menggiring pembaca masuk lebih jauh ke dalam kubangan kesendirian yang dialami Seth. Meski lambat, narasi Patrick Ness terkendali. Saya rasa, ia tidak ingin serta merta membuka kejutan yang disiapkannya.
Meski Patrick Ness membuat setting tempat di novel More Than This ini seolah adalah afterlife. Yang saya yakin, kata afterlife tersebut begitu tabu dan mengandung banyak awan dugaan karena sebagai manusia yang masih hidup, kita tidak pernah benar-benar tahu seperti apa kehidupan setelah kematian. Bukan begitu? Tapi sejatinya novel ini adalah post-apocalyptic novel.
"Everyone left the real world behind," Regine says,"and moved to one that was entirely online. Some completely immersive version that didn't look like being online at all, so much like real life you wouldn't know the difference." (hlm. 211)
Tanpa mengindikasikan tahun kejadian,Patrick Ness menggambarkan masa depan di mana bumi semakin tidak layak huni bagi manusia dengan bencana-bencana alam yang terjadi dan kekacauan lainnya. Manusia di masa itu, mengembangkan dunia baru. Dunia maya yang kita ketahui saat ini, dimutakhirkan sedemikian sehingga menjadi dunia virtual yang menjadi alternatif untuk dijalani.
"Maybe the world was just getting too bad and we finally had no choice but to leave it entirely." (hlm. 216)
Dengan mengunci diri di peti mati yang telah dirancang untuk mendukung kebutuhan fisik tubuh kita, manusia bisa menjalani kehidupan maya tersebut tanpa tahu bahwa kehidupan tersebut tidak nyata. Karena semuanya terasa begitu real. Peti mati yang semula hanya digunakan sesekali saat manusia ingin melarikan diri dari kehidupan nyata yang sulit untuk dihadapi secara mental, malah dijadikan hunian permanen hingga lambat laun mereka meninggalkan dan melupakan kehidupan yang sebenarnya.
 "That's how we made it, I think," Seth says. "So we'd forget there was ever anything else. Your own memoris rewritten to make it all work, and then your life was there in front of you. Online. The real one, as far as you ever knew." (hlm. 342)
Pfiuh. Can you imagine that?
We lose ourself without knowing. We choose to just escape the world and build another life with 'better' choice. But then what? Destiny will find its way no matter what. Even if you have chosen what you think will be better and what you think will be brighter for your future life.
Dan novel ini, selain tentang apa yang nyata dan tidak nyata; tentang ada atau tiada; juga bertemakan second chance. Hanya saja second chance yang terbentang, idenya terlalu outrageous. Beyond our limit and … inhuman.
What I can say is this novel is definitely a thought-provoking one. A good read that you could choose to accompany you rainy evening.
Caution: It will wear you out and makes you think harder about what's in life. What's more in this life we are living in.
---
Submitted for: Lucky No.15 #2 : Category – Opposites Attrack