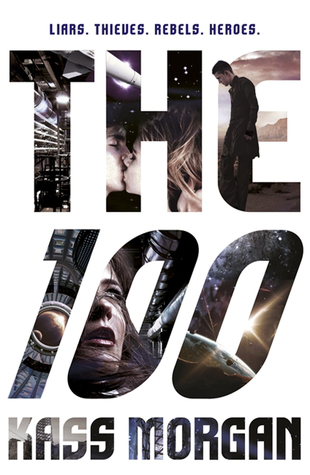 Title: The 100
Author: Kass Morgan
Release Date: September 3rd 2013
Publisher: Little, Brown Books for Young Readers
Format: ebook
Page Counts: 352 pages
Genre: Young Adults, Dystopia, Science Fiction
---
In the future, humans live in city-like spaceships orbiting far above Earth's toxic atmosphere. No one knows when, or even if, the long-abandoned planet will be habitable again. But faced with dwindling resources and a growing populace, government leaders know they must reclaim their homeland… before it's too late.
Now, one hundred juvenile delinquents are being sent on a high-stakes mission to recolonize Earth. After a brutal crash landing, the teens arrive on a savagely beautiful planet they've only seen from space. Confronting the dangers of this rugged new world, they struggle to form a tentative community. But they're haunted by their past and uncertain about the future. To survive, they must learn to trust – and even love – again
---
100 tahanan Colony yang berusia tak genap 18 tahun, dikirim ke Bumi untuk mencari tahu apakah setelah hampir 100 terabaikan paska radiasi hebat yang terjadi, Bumi sudah aman untuk dihuni kembali? Hal ini terjadi karena Colony sudah tidak bisa lama lagi bertahan di luar angkasa dengan cadangan oksigen dan kebutuhan esensial manusia lainya yang semakin menipis.
Kisah tersebut dinarasikan dengan beberapa sudut pandang, yakni Clarke, Wells, Bellamy dan Glass. Clarke menjadi kriminal karena mengetahui human trial yang dilakoni ilmuwan Colony yang merupakan orang tuanya. Naasnya, ia mesti kehilangan kedua orangtuanya karena kejahatan human trial tersebut. Wells, pemuda yang mencintai Clarke dan rela menjebloskan dirinya menjadi kriminal demi mendampingi Clarke turun ke Bumi. Ia sekaligus kambing hitam dibalik vonis mati kedua orangtua Clarke hingga Clarke yang dulu mencintainya, menjadi balik membencinya.
Lalu, Bellamy. Pemuda dewasa yang menembak Chancellor Jaha demi bisa menerobos dropship yang mengantarkan 100 tahanan tersebut ke Bumi untuk menyusul adik perempuannya; Octavia. Hingga Glass, sahabat Wells yang menjadi kriminal karena hamil di usianya yang masih dini namun berhasil melarikan diri dari dropship di menit-menit terakhir.
Lalu bagaimana keadaan Bumi saat 100 tahanan remaja tersebut, sampai? Amankah untuk dihuni kembali?
---
Saya membaca novel ini setelah season pertama tv series-nya selesai. Yap, The 100 diadaptasi menjadi tv series dan ditayangkan oleh CW sejak bulan Maret lalu. Kini, season kedua sedang tayang. Mau tidak mau saya membandingkan novel ini dengan adaptasinya, dong. Secara singkat, novel ini lebih terasa romance-nya. Dan tv seriesnya jauh lebih memuaskan kita menampilkan survival yang lebih real which should be the main point of the novel.
Hal itu tentu saja terjadi demikian karena leverage tv series lebih luas dibanding novel. Potensi untuk menghidupkan rekaan Kass Morgan pun lebih besar ketimbang cerita originalnya sendiri.
Dalam tv series, tak ada karakter Glass. Sedangkan dalam novel tak ada karakter Finn. Seolah Glass di mampatkan ke dalam karakter Clarke dan Finn dimunculkan sebagai hasil pembelahan karakter Bellamy ditambah Wells. Dalam tv series, Wells (my favorite boy) berada dalam friend-zone abadi dan hanya muncul beberapa episode saja *hiks. Sedangkan dalam novel, Wells adalah kekasih Clarke dan hingga akhir novel ini masih hidup *yeay.
However, meski saya suka -baik novel dan tv seriesnya-, saya ngga demen tuh sama Clarke. Dia itu heroine yang keras kepala, sok tahu segalanya, dan nyebelin. Sorry! So far sih, yang membuat saya bertahan itu adalah Bellamy dan Octavia yang semakin episode-nya tayang, semakin berkembang karakternya.
Jadi, saya rekomendasikan The 100 versi tv series-nya aja deh ya. Hehhe. Karena, The 100 versi novel tidak begitu maksimal digarap dan seolah tv seriesnya adalah penyempurnaan dari segi world-building hingga plot ceritanya. Good improvisation,  I must say.
Coba deh diintip trailernya, season 1 dan season 2.
Submitted for: