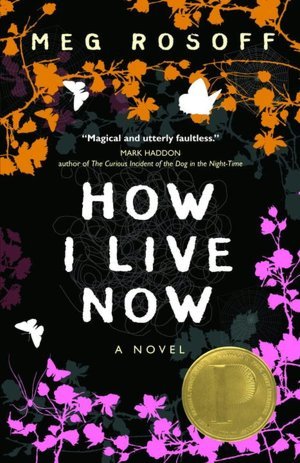 Title: How I Live Now
Author: Meg Rosoff
Release Date: November 20th, 2004.
Publisher: Wendy Lamb Books (an imprint of Random House)
Format: Paperback
Page Count: 194 pages
Status: Read from September 24 to 25, 2014
Genre: Young Adults, Contemporary Romance, Coming of Age.
Literary Awards: Orange Prize Nominee for New Writers (2005), Printz Award (2005), Deutscher Jugendliteraturpreis Nominee for Jugendbuch (2006), Branford Boase Award (2005), Boston Author's Club Young Reader Award (2005), Bronzener Lufti (2006).
---
"Every war has turning points and every person too."

Fifteen-year-old Daisy is sent from Manhattan to England to visit her aunt and cousins she's never met: three boys near her age, and their little sister. Her aunt goes away on business soon after Daisy arrives. The next day bombs go off as London is attacked and occupied by an unnamed enemy.

As power fails, and systems fail, the farm becomes more isolated. Despite the war, it's a kind of Eden, with no adults in charge and no rules, a place where Daisy's uncanny bond with her cousins grows into something rare and extraordinary. But the war is everywhere, and Daisy and her cousins must lead each other into a world that is unknown in the scariest, most elemental way.
Novel ini berkisah tentang Daisy yang diungsikan ke tempat tantenya di pedalaman Inggris, oleh sang ayah. Di sana, ia bertemu dan berteman dengan empat sepupunya: Osbert, Edmond, Isaac dan Piper. Liburan ini, Daisy tak hanya menjalani kehidupan yang baru dan berbeda tetapi ia juga jatuh cinta pada sepupunya Edmond. Bersamaan dengan itu, perang dunia ketiga pecah dan segalanya berubah. Daisy dan Piper dipisahkan dari Edmond dan Isaac. Untuk bisa bertahan hidup dalam perang yang sedang terjadi tentu saja adalah sebuah perjuangan yang berat bagi gadis berusia 15 tahun itu. Tapi keyakinannya untuk tetap hidup dan bertemu kembali dengan Edmond, membantunya melewati mimpi buruk masa perang.
—My Thought—
Dua hal yang baru saya tahu setelah mulai membaca novel ini: Pertama, dalam narasi tidak ada kalimat langsung kecuali di beberapa halaman terakhir. Kalaupun ada dialog, ditulis dengan kalimat tidak langsung. Kedua, setting perangnya adalah rekaan.
Kedua hal itu mengejutkan buat saya. Hal pertama adalah gaya narasi yang baru kali ini saya temui. Sedangkan hal yang kedua terasa mengejutkan karena saya kira penulis mengambil setting perang yang telah ada dalam sejarah. Sebelum ngeh, saya sempet bingung, kok di latar waktu yang dipakai sudah mulai era sur-el. Eh, ternyata, setting novel ini adalah perang dunia di abad 21 (fiktif belaka sodara-sodara!) (-.-)a
Saya punya ekspektasi terhadap novel ini. Bukan ekspektasi tinggi sih. Dan setelah membacanya, saya merasa ada yang kurang. Something's off, somewhere. Untuk novel berlatar perang, biasanya saya bisa tenggelam dalam grieving dan horornya kehidupan saat perang. Sayangnya, novel ini kurang berhasil memancing emosi semacam itu dari saya.
Untuk karakternya juga, jujur saja, Daisy bukanlah tipe heroine yang saya suka. Dan romance dalam novel ini, yang terjalin antara Daisy (15 y.o) dengan Edmond (14 y.o) terasa berlebihan. Digambarkan bahwa cinta mereka itu 'dalam'. Tapi buat saya cinta semacam itu ga relevan untuk terjadi pada remaja seusia mereka. Ah tapi kan novel ini berlatar waktu perang, dan waktu perang itu kan memang punya mekanismenya sendiri dalam membuat seseorang lebih cepat menjadi dewasa. Yah, mungkin begitu,
Bagian yang saya suka dari novel ini sepertinya adalah Isaac dan Piper dan cara ibu mereka, tantenya Daisy, membesarkan anak-anaknya bersama alam. Pada akhirnya hal itu sedikit menunjang survival mereka selama perang berlangsung.
In short, novel ini oke tapi tidak begitu spesial buat saya.
—Movie Adaptation—
Adaptasi layar lebar novel How I Live Now (dirilis tahun 2013) dibintangi oleh Saoirse Ronan dan karakter Edmond diperankan oleh George McKayy. Sebenarnya di dalam cerita How I Live Now ada kisah cinta dua remaja yang digambarkan cukup passionate. Mungkin sutradara yang mengadaptasi novel ini sepakat dengan saya yang kurang sreg dengan passionate love antara remaja 15 dengan 14 tahun sehingga di dalam film adaptasi nantinya kita akan menemukan bahwa Edmond di film lebih tua dari Daisy. Its better, i guess. A good improvisation.
Akting Saoirse Ronan di film ini, bagus. Menyesuaikan karakter Daisy, ia perlu membuat dirinya menjadi sangat kurus. Di film ini juga, Saoirse menyulap dirinya yang sebenarnya telah berusia 19 tahun menjadi seorang gadis remaja yankee berusia 15 tahun.
For a whole, I can not say that the adaption turns out as good as or better than the novel. Because for the adaptation too, I feel its still come out so so. BUT the soundtrack was good. I like the soundtrack, especially Home and Garden's Heart.
---
Submitted for: