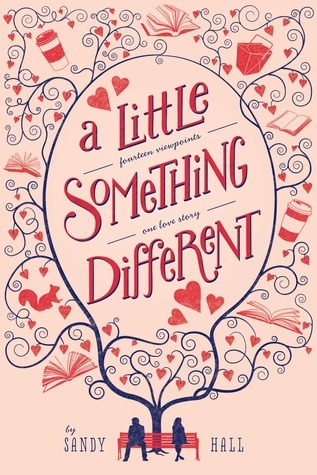 Title: A Little Something Different
Author: Sandy Hall
Release Date: August 26th, 2014.
Publisher: Swoon Reads
Format: ebook
Page Count: 272 Pages
Status: Read from August 30 to 31, 2014
Genre: Contemporary, New Adult, Romance.
---
The creative writing teacher, the delivery guy, the local Starbucks baristas, his best friend, her roommate, and the squirrel in the park all have one thing in common—they believe that Gabe and Lea should get together. Lea and Gabe are in the same creative writing class. They get the same pop culture references, order the same Chinese food, and hang out in the same places.

Unfortunately, Lea is reserved, Gabe has issues, and despite their initial mutual crush, it looks like they are never going to work things out.  But somehow even when nothing is going on, something is happening between them, and everyone can see it. Their creative writing teacher pushes them together. The baristas at Starbucks watch their relationship like a TV show. Their bus driver tells his wife about them. The waitress at the diner automatically seats them together. Even the squirrel who lives on the college green believes in their relationship.

Surely Gabe and Lea will figure out that they are meant to be together….
---
Multiple third POV (without first POV/narration at all) is the first thing you have to know. With that, this novel offered something new.
Second, the cover. I know you'd agree with me that its a PRETTY cover. And you know what, the paperback edition has embossed texture and glittered. I have, accidently, seen someone posted the picture of one on Instagram. Who could resist that?
BUT that were the only two you could get from this novel. Well, thats what I got.
The two main characters that others talking about was not really special. The story too, nothing of it could surprised you in a good way.
Too much sweetness. It was almost spilled in every page. Too much COINCIDENCE, that's what I hate the most. Others that do the telling, they were likely drama-queen. By their POV, I was forced to agree that Gabe and Lea are meant to be. By everyone of them! Especially by the creative writing professor. Ugh.
As the ending come, there was a scene that reminds me of poem-reading scene from 10 Things I Hate About You. Figure it out yourself. At this point, did I sounds annoyed?
p.s: This review was different from my GR review of the novel. I don't know, maybe I've changed my mind: from being tolerant to annoyed.
Submitted for: